Bio
Trained in classical mosaic in the late 90's in London, and Venice a few years later, Vicki began her professional art career making fine art mosaics and serving as a Partner at Ciel Gallery in Charlotte. Exhibited in juried shows including Mosaic Arts International; recognized and awarded, her mosaics include public art, private commission and fine art.
Inspired by story and symbolism, Vicki's mosaic work - representational in style, draws inspiration from the Byzantine and Op-Art eras. Tessellating patterns can be found in many of her works.
Vicki is Principal of M3 Gallery which began as a brick + mortar gallery exhibiting fine art mosaics made by leading artists from across the world and a fine arts classroom.
Late 2017 M3 transitioned to a focus dedicated to empowering artists to sell more work by defining their ideal customer, creating online visibility and leaning into their unique micro niche specializations and multiple revenue streams.
Earlier in her career, Vicki worked as a Department Manager in a large department store and learned the joys of serving customers well while managing the business. As a young mother she freelanced while the kids were in school serving numerous organizations by optimizing and automating their enrollment and customer service systems making happy customers and volunteer workers.
Helping Artists and Creative Entrepreneurs find their niche, sell more work and create boutique customer experiences is in her DNA.
See the Artist Empowerment Services available...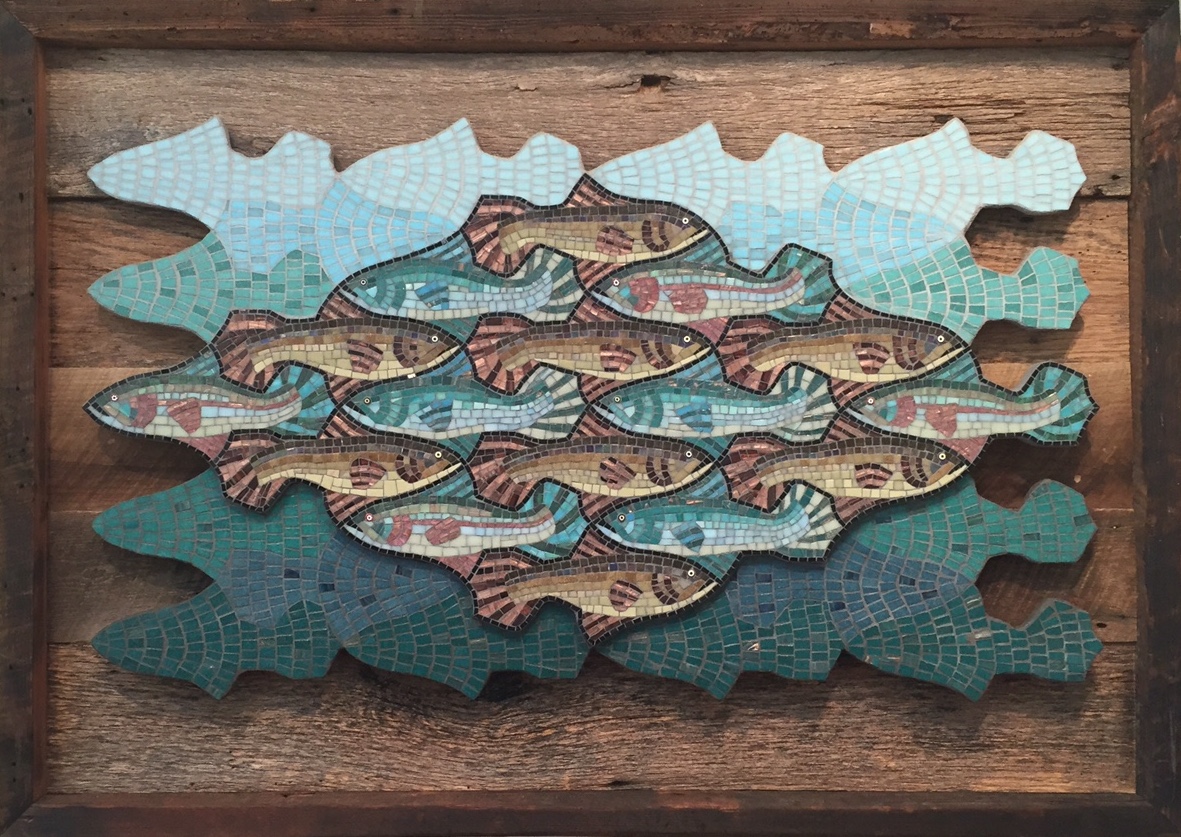 The Meeting Place © 2015 Vicki Hanson-Burkhart
Created for the premiere episode of 'Restoration Wild' on Animal Planet Network, first airing Nov 2015.
Dimensional Mosaic Layered Tessellation Study
Vitreous Glass, Millefiori, Contourno
All custom woodwork by Master Craftsman - Marcus Burch
Unfurled - Mural Section by Vicki Hanson-Burkhart
An exterior mural in the SouthEnd Arts District of Charlotte, NC, designed by Lin Schorr. Mosaicists from across the world were assigned a section and given the freedom to work in their choice of materials and style. The final work spanning 8'h x 13'w was assembled by Pam Goode and helpers. This is Vicki's contribution to the work made in Mexican Smalti, and gold.
Day 5 © Vicki Hanson-Burkhart
A study in tessellations and narrative design, this work has layers of meaning for the curious observer. Original design made in Italian and Mexican smalti, and gold.
24" x 36"
Floral MicroMosaic © Vicki Hanson-Burkhart
Italian floral filati in custom wood frame by Marcus Burch. 3" square.
Plein Air Micro Mosaic © Vicki Hanson-Burkhart
Created on a picnic table overlooking at a mountain scape in WNC. This photo gives a little better sense of the size of my micro's.
1.625" square mosaic in a 3" frame. Yes tweezers are involved:)
Connected © Vicki Hanson-Burkhart
Walnut and gold Italian smalti.
Salus © Vicki Hanson-Burkhart
The Tree of the Knowledge of Good and Evil in a Byzantine style inspired by the Creation Dome in St. Marks Cathedral, Venice.
Italian smalti, gold and millefiori.
Vicki offers coaching packages for artists ready to sell more work.